Is it just me or does Monday come around awfully quick these days?! We have about three more weeks of super busy before we begin our intentional slow down in anticipation of the baby. At least that's the line I'm telling myself. The truth is we probably just trade one crazy activity for another, but I'm in denial. Thankfully, the summer won't be far off when the baby comes, because he's going to pretty much have to hit the ground running. Three older siblings aren't going to sit around and watch him sleep!
Much of the last week seems a blur in my mind. I really think my brain is deteriorating into mush a little early this time. I'm finding it harder and harder to concentrate. I guess that means I'll return to my normal self around August or September. In the meantime, the least I can do is continue to count those blessings.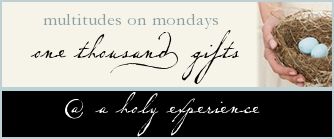 638. it's still a good pregnancy with no complaints other than being tired. I'm counting this blessing each and every day because I know
where I could be
.
639. Carrie's dinner entertainment, made mostly of very expressive faces that crack us up
640. that the latest bug the older kids picked up has been extremely short lived
641. a job that is flexible enough for me to come in two hours late when I have a sick kid
642. race car fun for Brenna and Daniel, and that both were well enough to go
643. opportunities for Brenna
644. a very successful spaghetti dinner charity event at the kids school
645. being challenged to a new understanding of Scripture
646. milkshakes
647. ordering new gadgets for my mixer with my bread money
648. ordering 240 lbs. of wheat!
649. that moment every day when Michael walks in the door
650. walking upstairs and seeing that Daniel's room is still so neat and orderly
651. giving a friend a loaf of bread
652. that Carrie's goose egg from falling into the corner of the fridge went down so quickly
653. my homemade bread, toasted, buttered, covered in honey and reheated
654. the amazing designs of the ice on my windshield this morning