I have so many posts in mind that I had to make a list... and yet I'm still only checking in on Mondays. With a deep sigh, I mutter 'someday' and know that there are times the blog must take a backseat to life. As much as I want to be writing all the time, or at least getting some of these ideas flowing, there are more pressing things that need to be done. Sometimes that means sleep! ha ha. It does make me smile, though, to easily list 16 gifts from above without much effort. Life is happy. Messy and disorganized still, but oh so very happy.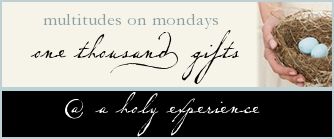 655. The car with the canoe on top that blocked the bright sun at a traffic light on Main Street.
656. Stepping out into giant clumps of snowflakes falling from the sky at night.
657. The bright yet peaceful night of being outside during a snow storm
658.
Mounds brownies
659. the ways in which God brings grace to those who are grieving - even if they don't see it yet
660. finishing a 500 hundred piece puzzle in less than 24 hours
661. kids old enough to help with a real puzzle
662. cookie paddles and a blender for my mixer, and money left over
663. that everyone is stepping up and helping out while I'm low-energy
664. new discoveries (for us) with the grain we mill
665. progress on my wheat/bread series - getting closer to posting it
666. that Brenna's stomach bug was short lived
667. half day for students - could we get one once a week?
668. being less mentally tired and now just body achy/tired
669. reading a good book
670. Brenna asking to sleep on the floor in Daniel's room
671. watching the kids play in the snow