Christmas for our family is an incredibly exciting, but very long, three day event. I love that it's not all over all at once. I also appreciate that each celebration has its own character and unique expectations. But darn if I'm not tired tonight. There's also that minor bit about me being twenty some weeks pregnant. I suppose we could blame the baby just a little. Tonight, though, I will be quite happy to lay down and go to sleep. I do believe I've given all I have to give.
Perhaps baby agrees - I'm getting kicked as I type.
It seems ages since last Monday. I still hope to reach a point where I am seeing the small things in each day and giving thanks right then. It makes this exercise so much more meaningful, as it was this past summer. For now, I've got to give myself a little pass and be ok with listing what I can remember.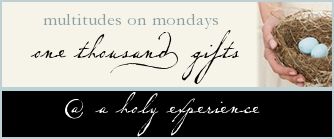 550. going to church on Christmas day, Lessons and Carols
551. spending time with family
Daniel with Uncle Robert
Brenna and Daniel with their cousin Emma
552. my two hour nap on Christmas day
553. snickerdoodles
554. surprising Michael
Hello K-cups!
555. ordering Chinese
556. having projects to do at work
557. just plain living in this county
558. getting my hair cut - 8 inches off to donate to
Pantene - beautiful lengths
559. my Ohio shaped cookie cutter
560. new glasses
561. windows of hope with Carrie's potty training
562. making it through all three days of Christmas, even if I did use Coke to prop me up
563. laughing till we cry
564. a place to call home
565. meeting my neighbors - so far everyone is so nice!
566. Carrie's hilarious monkey backpack