Now that I'm through yesterday's little temper tantrum, it's time for some gratitude. How truly appropriate that when I went to
A Holy Experience
to pick up the button code, I found
these words
,
"Give up, once and for all — give up all the fears and all that weighs heavy.
Give up the worries — and "
bend the knee and be small and let God give what God chooses to give — because He only gives love
."
~One Thousand Gifts
Give up what weighs down…
Give up the worries and give thanks…
Embrace the gifts that His love gives just. right. now…"
I can only shake my head in awe as I make efforts to do just as she suggests.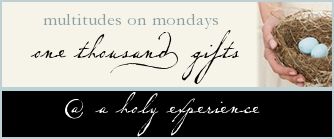 225. Daniel and Carrie playing ring-around-the-rosie together
226. Carrie's soft skin the morning when she's had a bath right before bed the evening before
227. Whole grain bread with butter and strawberry freezer jam for breakfast
228. Running my hands through the bucket of wheat
229. My Dad, who was able to help us fix our kitchen circuit after mixer number two fried it.
230. blueberry muffins - homemade, and that everyone likes them
231. cooler temperatures today, less humid, a nice breeze - all helping pull the house down out of the eighties while we wait for the AC man to come.
232. birthday cupcake, given to me at the graduation party we went to on my birthday. So thoughtful!
233. riding in the car with just my husband