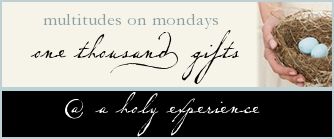 Is it any wonder I've begun to look forward to Mondays? I can hardly figure out what else to
post on my blog, but lists of gifts.
Over the past few weeks as I've participated in this exercise inspired by the book, I've learned a bit about writing down these gifts. It can be simply a list of happy things in my life. It can be shallow. I can be lazy about it. And sometimes all of those things happen.
Other times I take an active part in my list and it becomes so much more meaningful. During the weeks when life was hard and I was struggling to find any feelings of gratitude, my lists were more intentional. I wrote them down daily, rather than weekly. I spoke my gratitude out loud as I wrote them down, not in my head as a group. I guess in a way, I needed them more.
I suppose it's the same with any discipline. Bible study - you get more out of it, if you put the time in to it. Quiet times - five minutes is good, but thirty might be better. Fasting - giving up something you don't eat often anyway doesn't help you turn your focus toward the Giver of all. Hospitality - it isn't necessarily about how many bedrooms and bathrooms you have, but rather the thought you put into making guests feel welcome in your home.
This week's list falls somewhere in the middle. I thanked God for Brenna's joy right as she was feeding that little blue bird in the middle of the zoo. It was a beautiful moment. But many other moments I let slide by and only hoped I'd remember them, come Monday.
Perhaps a little more intentional next week.
129. Ohio sweet corn
130. watching Brenna feed the birds at the zoo
131. Mr. Bell, who cleans our building at work - always in such a good mood.
132. when Carrie mimics Brenna or Daniel
133. family movie nights
134. popcorn - made in the pot on the stove
135. gift cards for dinner - especially when we have to be out of the house for a showing over dinner time.
136. spring break
137. egg hunts
138. that we practically skipped the whole Easter bunny/ Easter basket thing this year and the kids' hardly noticed. Isn't that interesting.
139. sleep
140. Daniel dressed in a button down shirt and jeans
141. each of the kids' "Nana blankets" - the quilts my Nana made for them that they take everywhere and love to pieces, literally.
142. That 'Christ the Lord is risen today'
143. All of the Easter morning facebook messages
144. that Michael took the kids to Maymont and I didn't have to go.
145. The Master's Plan - back after more than a decade.
146. the way music can speak to the soul