Two quotes:
"God cries because His people cry for things that won't bring them peace."
and
"And I am the woman who praises Him quiet when it goes my way — and who complains loud when it doesn't......If my thanksgiving is fickle, then my faith is fickle."
Click the button below to read the rest. It leads back to A Holy Experience by Ann Voskamp.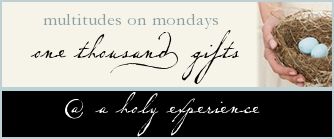 737. someone else's flowers that sit on my desk at work all day
738. solving at least part of the my new wheat problem
739. a sympathetic two year old when I don't feel well
740. crockpot recipes
741. Michael's homemade lemonade
742. a great soccer coach for Daniel's team
743. the kids getting to see the Masters Plan
744. chubby little kid hands
745. friends who confide - may I always be worthy of their trust
746. Brenna's clay vase chosen for display at the county arts and sciences festival
747. a meal brought to us by a family at church - so thoughtful in these last few weeks of pregnancy
748. hanging out an hour past the end of Bible study just talking
749. a mom who doesn't mind taking a kid or two shopping for some needed clothes when I don't think I can walk another box store.
750. following the adoption of little Jude from China and feeling the joy of our friends overflow into our own hearts
751. No spelling words/homework this week for Brenna! I couldn't be happier!