Here's a little truth - I'm still going to have to dig deep for some of those harder blessings. Sigh.
Having our house situation ironed out does give us stability, but sometimes bad news continues to come right along with the good. Imagine that. "
In this world you will have troubles
". And just because a big one clears up doesn't mean that's all there is. Thankfully I learned quite a bit climbing the last mountain, so hopefully some of those lessons and truths will help me over the next one. In fact, let's not even call this one a mountain. In comparison, it's probably a big hill. And right before that 'troubles' bit, Jesus says, "... so that in me you may have peace." That's where I'll need to look and that's where I'll find it. I know I'm being vague, but I don't have permission to share just yet. I'm sure over the course of this trek, though, I'll write plenty. I'll need the emotional outlet.
All is not in the pits here, though. We're slowly but surely creating a home in this house. Lots of memories with our first Christmas season. And still much to look forward to...even if there's a day to dread. Enough already. On with the blessings before I end up saying more than I should.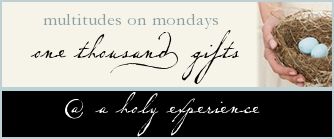 567. a plethora of oranges from Christmas stockings
568. Christine's juicer! :)
569. feeling better after a cold - the body's ability to heal
570. progress in potty training Carrie - and hope that maybe, just maybe we might be able to quit the diapers someday, perhaps even by spring?!
571. empty boxes
572. a great deal on much needed furniture for the living room and Brenna's room.
573. really nice Christian people who listed furniture that we needed, painted the way we wanted, for an amount we could afford on Craigs List
574. how it all works out sometimes
575. nice people who smile
576. my grandfather's 85th birthday
577. continued good news at my baby check ups
578. surprising the kids with hot chocolate and oreos after school on our first really cold day of the season
579. friends
580. unpacking all my fabric and sewing supplies
581. whenever something I've unpacked finds a 'home' in this new house