The tension is building! The sellers move out tomorrow and we close on Wednesday. Moving day is Saturday. I am so organized I'm driving myself crazy. There's nothing else to plan out. We have lots of wonderful friends who are coming to help and I think I've scheduled everyone in a way that will be the most helpful. I have three crews working plus my dad and brother who will be bringing things from my parents' house.
I am truly so overwhelmed by the offers to help. I don't think I turned anyone down. In all my planning ahead for this day, I didn't anticipate being 16 weeks pregnant and not much help. So many people, from our small group, our families, our new church, Michael's band, and even an old friend from high school are all coming to help. Isn't God's blessing just amazing?! Just wait till I have pictures to show!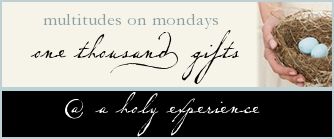 472. the technology of texting that is allowing my mom to send me pictures of Daniel enjoying his Disney World trip with them.
473. Carrie's thumbs
474. friends who listen when all I do is talk about me
475. meeting neighbors already, and one with a son in Daniel's class
476. how Carrie can win over an entire congregation by telling each person who asks that her name is 'Pickles'.
477. the skinny doors and giant keyholes on our new church, historic
478. The two young girls who took Brenna under their wing Sunday morning and showed her all around.
479. the joy of truly helping someone find a new home when I'm at work
480. planning and organizing for the big move this weekend.