When you don't blog for six weeks, a lot builds up. I didn't intentionally stop. I just didn't have the writing bug I usually feel. Holding a secret can do that to you. I also need dedicated quiet time to write, and that's hard to come by these days. It felt good to pour out this list. I'm sure I've missed many of the little blessings over the last few weeks, but when I sit still and think, I'm overwhelmed by grace. My cup truly runs over with the graces granted me through what has been a most frustrating year. May we never forget to stop and say thanks, for God has blessed us immeasurably.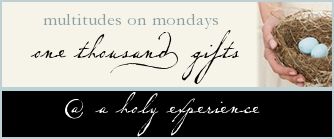 Continuing to count, on my way to One Thousand and Beyond...
431. for a stomach so sick it brings tears, but provides assurance that the baby inside is growing well
432. for Brenna and Daniel who ooohhh and ahhhh over 8week ultrasound pics, saying over and over how cute our baby is. No one ever saw a cuter blob than this one. :)
433. for Daniel's laughter when I read to him from babycenter.com that the baby has begun to pee
434. for Brenna's offer to bathe Carrie with her since I'm so sick tonight
435. for McDonald's snack wraps, that calm the aching stomach (and that's saying a lot, because I don't like McDonald's.)
436. that the sickest hours have been during the day, when everyone else is gone and Carrie is napping
437. for an obgyn who is genuinely excited to have me back
438. that my mom was home to help the night Daniel threw up all over the bedroom carpet... because without her help, I surely would have doubled the mess. (also number 419, but with new meaning here, now that you know I'm pregnant)
439. that my parents offered for us stay with them and slow down the process of looking for a new home
440. that I swallowed my pride and accepted the offer
441. that God blessed that swallow
442. for
Chick Fil A
, forever and always
443. seeing friends at a restaurant unexpectedly, when we hadn't seen them in over a year
444. to watch events play out a slower pace than I wanted, but with a precision that amazes me
445. for the opportunity to live, work, and worship in the same community
446. for money saved toward a good mixer
447. friends and family willing to help us move - twice in a few months
448. Brenna's 9th birthday
449. that Carrie recovered quickly from her high fever sickness (that scared the living daylights out of me)
450. for friends who speak truth in my life, especially when I can't see past my fear or the mountain in front of me
451. being able to lean on my husband
452. joy
453. spending time with my grandparents
454. talking on the phone with my cousin Emily
455. new cell phones with texting capabilities
456. chairs that kick the feet up and lay back
457. quilting in the sunroom
458. taking the kids on a secret mission to get my nephew Caleb a dedication cake after church. They were so good and so excited to be part of the sneaky mission.
459. deer in the yard
460. listening to Daniel read - his teacher is working miracles where I was hitting a brick wall!
461. being able to trust Brenna and Daniel to behave in all sorts of circumstances
462. scoring maternity clothes at Goodwill, since mine are somewhere in the storage unit
463. cooler weather, but not cold weather
464. pumpkin ice cream and pumpkin bread