Hurricane Irene prevented me from posting last week. We lost power early in the storm, but it was restored in a little over four days time. Much better than when Hurricane Isabel went through here and my parents were without power for eleven days! Our house closed two days ahead of Irene, and we learned just how spoiled we'd been living there - with our city water and our gas water heater. Out here in the country on well water, you can't run any water and you have to manually flush the toilets. peeeyuuuuu!
School starts here tomorrow! We are thankful for a wonderful elementary school and fabulous teachers. Now if we could just find a house so we'd actually
live
in the district....
On to 1000.....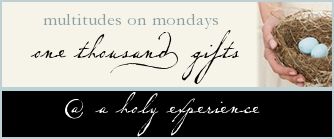 392. no earthquake damage - just a few drawers slid open
393. minimal hurricane damage
394. power back in 4 days, rather than 11
395. flashlights
396. being able to flush toilets
397. running water
398. visiting friends who didn't have power either
399. waving at people driving by - and making them smile
How could you not smile when this kid is waving at your car driving by?
400. pretending super-hero leaping abilities
401. two extra days of summer vacation for Michael, thank you Hurricane Irene
402. Molly, who let us take showers/baths at her house and then gave us lunch and sent us home with a cooler of ice
403. Stephen/Kristin who let us shower/bathe at their house and fixed a yummy hot homemade dinner
404. getting safely to SC - through the rain, the traffic jams, the near miss accidents, and the long hours
405. meeting my new nephew Caleb
406. sheer joy
Seriously thought his little heart might explode, he was so excited
407. a husband who will do the grocery store run
408. meeting the kids' teachers
409. the school open house felt like a reunion, so fun to see everyone
410. love our elementary school, which totally confirms our decision to move into the district
411. pulling in the driveway
412. kids who travel well
413. filling out beginning of the school year forms (yes, I know that's weird, but I like it.)
414. Carrie wearing her gnome hat playing in the sandbox
415. new school clothes
416. nap time
417. popcorn
418. regaining internet access after the hurricane