Two days late because I was in Ohio with limited access to the internet. (more on the trip later)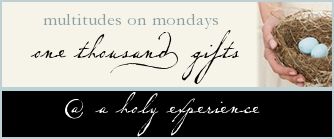 263. mountains. up close. in the distance. blue. tree covered. tunneled. ear popping. steep. rocky. beautiful.
264. driving through a tunnel - specifically the Allegheny Tunnel.
265. samples of apple cider at Shawnee Springs, WV.
266. cookies and water on a long car ride
267. Brenna willingly cleaning Carrie's hands after the cookie
268. my spot in the back of the van - whole back seat
269. employers who let me take a day off with short notice
270. backyard fireworks display
271. others who are interested in milling flour
272. missing Michael less than four hours after we left and knowing that means our love is strong
273. home
274. the most beautiful bouquet of flowers I've ever received. (it came from Michael and Daniel)
275. new books to read
276. a relatively easy 5 year check up for Daniel that included shots for Kindergarten
277. Guys weekend for Michael and Daniel
278. Creme sticks