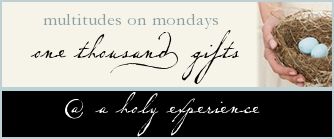 A day of summer has already come and gone. For the first time in years, we don't have any big plans for our weeks of June, July and August. Only hopes. I want to be 'all here' this summer. I want to do crazy things like build forts with the kids and have sock fights. No expensive trips, but lots of baking in the kitchen and playing on the slip and slide in the yard. Perhaps a few visits to the farmers market and the park. A day in the mountains and one at the beach. We'll try new recipes for dinner and experiment with foods we've never had before. It's the summer to potty train Carrie and to teach Daniel how to tie his shoes. We'll play board games, wii games, and games that Carrie can do. We might squeeze our own lemonade and make our own ice cream. I think we're gonna bring back the lazy days of summer.
With only one day down, the summer is full of promise, don't you think?
Continuing to count the many gifts in my life....
234. When school is out and my whole family is home for the summer
235. Brenna's friend Ruthie
236. giving bread away
237. talking friends from Ohio into spending the evening with us rather than leaving for home at 5pm.
238. all the wonderful gifts my sister received at her baby shower
239. Carrie's phrases and exploding vocabulary - how she touches our hearts with 'dank you (slight pause) daddy' or Mommy, unprompted
240. Daniel's first tennis lesson
241. lemonade with a touch of lime
242. driving down country roads
243. grocery shopping with just Carrie, even though she yells, "Appie Saw" up and down four aisles after we pass the applesauce.
244. that Michael wasn't very far from home Sunday morning when he realized the back tire on the car was completely flat
245. a whole summer stretching ahead of us
246. a rainy morning that kept the temperatures down a bit
247. when God gives me a friend who understands some portion of my life
exactly.
(Heather)
248. eating popcorn on the couch with Carrie, both of us under our blankets, and watching Baby Mozart together.
249. strawberry pie with homemade whole wheat crust
250. my whole family sitting around the fire pit on my parent's patio, talking, enjoying the stars, watching the sparks, and singing (or rather listening to Brenna sing)
251. my apple apron
252. Marigolds - given to Michael by a student at the end of the year, but always bringing a smile and memory of my great-grandpa's house.