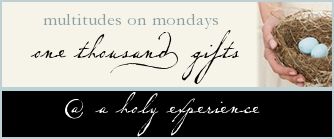 "This is the day the Lord has made; let us rejoice and be glad in it."(Ps. 118:24) And what a beautiful day it is too. 78 degrees and absolutely gorgeous. A bit green. But maybe He thought we needed a little extra color in our day and pollen does the trick. Daniel, Carrie, and I are just back from an afternoon at the park. We met up with some friends - 11 kids and 4 adults. The kids played. The moms talked. And life was as it should be.
Counting the many gifts and giving thanks...
121. green lights - especially consecutive ones. And maybe more especially when I'm anxious to get where I'm going.
122. an afternoon at the park with friends
123. Easter egg hunt at the home of our friends. The sweet prayer prayed over all the families. 800 eggs to find! Meeting new people. Yummy food. Friends who enjoy holding Carrie. Just being together.
124. Carrie's big curl at the bottom of her hair
125. Michael teaching Daniel. Father - Son.
126. losing track of how many friends are reading
One Thousand Gifts

127. extra hours at work
128. cake pops that turned out better than the last ones. Maybe I'm learning?