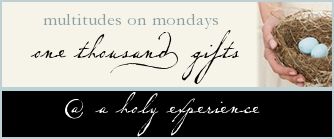 It's Monday!!
94. confident, excited realtors
95. country music
96. Two more friends who bought
One Thousand Gifts
(pretty soon they're going to have to start paying me for marketing this book!)
97. bare baby legs
98. Daniel's fascination with the weather channel
99. sitting in the church sanctuary while Brenna takes dance class
100. Brenna's newly begun list of gifts. Her entries are precious and she calls her notebook her "Happy Book" because it contains the things that make her heart happy.
101. open windows on a warm, breezy day
102. crossing off the last item on a list
103. huge puffy white clouds against a deep blue sky
104. the plate holder my mom bought me so I could display the plate my friend Cynthia gave me
105. an hour past bedtime of talking and laughing with Brenna, Daniel, and Michael on our bed. Did anyone else know that Daniel's a trip?
106. all the people still pitching in to help, offering to help, praying for us, and working on our behalf
107. the comedy that is four year olds playing soccer