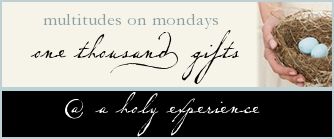 The
headlines
read "Want stress? Try selling your home today" and "As homes languish, seller stress soars". The doctor cited in the article says, "
Today's market has created unprecedented levels of seller stress that mirror symptoms of post-traumatic stress disorder."

I'd have to say this week at the Peapod certainly underscored those words. This was six consecutive terrible, horrible, no good, very bad days. So frustrating on so many levels and fronts that right now I can't even summarize it. We had house issues, scheduling conflicts, discipline problems, condo stuff, relational stress, all kinds of accidents (not car), work things, sickness, and a car that quit, just to name a few. I think I started crying on Sunday and I'm not sure I'm finished.

How interesting that in a week like that, I've been reading a book like this. Every time I wanted to make a list of all the things that were going wrong I couldn't, because I knew I was supposed to be making lists of gifts. I wanted a heart of gratitude, but my circumstances and my situation were not cooperating. When I started toward a thousand gifts I thought it was going to be fun and easy. How quickly I have found out otherwise. But I can sing the lyrics "Oh no, You never let go, through the calm and through the storm, Oh no, You never let go, in every high and every low, Oh no, You never let go, Lord You never let go of me" with more experience and more confidence now.

This week's list does not come from a light and happy feeling. It comes from the dark, crushed tear-stained recognition that God is God and even when I feel unable to move forward, He's providing new mercies and fresh blessings to see me through.

67. The policeman, just back from training in AL, who made room in his car for Michael and Brenna and brought them the last two miles home when the car broke down.

68. That the car broke down in front of a park and not on the interstate

69. Not ten minutes after I asked our Small Group for help painting the 18 ft. high wall in our kitchen, I had two emails saying yes.

70. The sense of peace that falls over me when I walk into the church building where I'm participating in Bible Study on Thursday mornings.

71. Friends who call for the sole purpose of praying with me over the phone.

72. My sister who read my list of complaints this week and offered encouragement and understanding.

73. Ohio State wins. I would have cried for sure if they'd lost.

74. lots of good finds at the Toy and Clothing Sale. All three kids got some new clothes.

75. My Small Group. I feel like I could write this one for every number from here to a thousand and it still wouldn't be enough. They have loved us this week more than I'll ever be able to put into words. It makes my eyes fill up just thinking about what they've done and how they've given and how they have worked so hard to help us carry our heavy load.

76. heavenly delight

77. the eye drop samples my sister gave me weeks ago that worked wonderfully on Carrie's gunky eyes

78. Dan, who graciously let me ride to/from work with him this week

79. Kristina's yummy granola treats



80. hope

81. TJ - who came and picked up Michael for church early this morning.

82. that guys night was this week, which gave Michael a brief respite and some laughs

83. We needed 17 door pulls for the kitchen. When we finally found one that would work (no small task) Lowes had 16 ... wait.... dig around a little... exactly 17.

I have a feeling there were many more that I missed, but I'm glad to name these and to know that last week is now officially IN. THE. PAST.