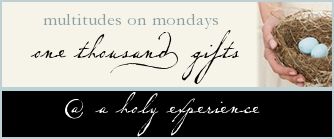 There are two more hours left of Monday, which means it's time to name some gifts. I've been sorely tempted to skip out today. Leave it for tomorrow. Or just quit altogether. At some points during this past week, there didn't seem to be very many gifts to name. However, I've seen pictures and video from Japan and I know - without doubt - that I have much to be thankful for.
55. pizza bones - what Brenna calls the crust on pizza, and she'll gladly eat yours if you don't want it.
56. Daniel's fast stomp up the steps to proudly tell me he only got one wrong on his
time4learning
quiz.
57. the weight of Carrie's head on my shoulder
58. the email, offering hope, that arrived seconds after I published the post on
belief
59. Another friend who has begun to read One Thousand Gifts!
60. Precious friends who hear tears, who see tears, who just know, who offer help, who walk beside, who encourage, who keep me hanging on. This week especially Christine, Jennifer, and Megan.
61. watching my dad push Brenna and Daniel on the swings, their giggles, his joy
62. the tiny little spiral-y things in the middle of a fresh picked dandelion
63. that after three no-where-even-close misses, Daniel finally made it to the trashcan to get sick.
64. pigtails
65. helpful guy at Home Depot.
66. the cobbler who fixed Brenna's tennis shoes and my mom, who took the shoes to him
It's so helpful to see these actually written out. A list in the head just wouldn't be enough this week. One day - one hour - fought hard to dominate my thoughts of the week, but those other days were full of so much more. If I had not written them down, all of that wonder would have been obscured by the ugly.