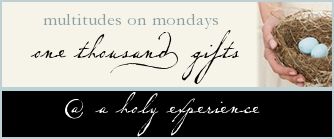 A new beginning at the end of the month. Sounds perfect to me. Giving thanks. All the way to 1000 and maybe beyond. Looking for the little things. The small gifts. And acknowledging them in writing. Giving thanks. Leading a life of gratitude to God. And so I begin:
1. Discovering a website like
A Holy Experience
that so often cuts right to my heart.
2. "Bup Bee" in Carrie's precious voice. With her up reaching arms, I can almost never resist this request. (Up, please)
3. A sermon anecdote that caused everyone else to laugh, but caused me to fight back tears as I recognized the encouragement the Lord meant just for me.
4. A caramel fudge milkshake from Cook Out.
5. A sweet big brother who is willing to play in his baby sister's room for 10 minutes so she won't feel so alone playing in her crib while I take a shower.
1000 is a long way away, but I think 5 is a good start. I'll reunite my camera with its SD card so that next Monday there might be pictures as well. I think that might be nice. :)