Thankful to be through the busiest few weeks of our pre-baby calendar and ready to slow down. I don't know if everyone
else
got that memo or not, but that's
my
plan. Now to focus on baby preparations and attempting to enjoy these last few weeks of being pregnant. Lots of 'just us' family time. Getting the baby's room ready. Preparing our bedroom for those first few weeks home from the hospital. And figuring out just what we're going to call this little guy.
Finding time for much rejoicing....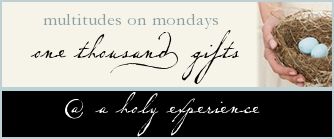 699. friends (and parents) who willingly looked after my kids day and night so I could tag along with Michael and his band for two days in the mountains.
700. seriously hard laughter that brings tears to the eyes
701. having friends just down the hotel hall - like living in a dorm again - and a whole new set of inside jokes.
702. good conversation in the car, even when it's hard, because it keeps us on the same page
703. seating setups with a large dinner group that seem frustrating at first, but turn out to put me exactly where I was supposed to be for exactly the conversations I was supposed to have
704. seeing this sign for sale at a craft show "Be nice or Go away"
705. when the doctor says, "you're doing so well it's almost a bother to keep bringing you back here for these appointments" (Anyone who remembers my last pregnancy feel free to shout "Amen Hallelujah!")
706. porridge
707. discovering new flowers popping up around the yard of our new house
708. the sweet gifts God gave my friend Molly this week
709. that Michael is willing to make the kids' sandwiches for their lunches
710. movie night with my kids
711. watching Daniel and Carrie play together on the playground and feeling so overwhelmed with joy