I guess I'm still not finding a lot of time to write. One post and a picture this week - but it looks like that's better than the previous six weeks combined. Michael has some meetings and practices in the evening this week so I may get a little one on one time with the laptop after the kids go to bed. No promises, but it sure would be nice. I never realized how spoiled we were having two computers in the house. At night Michael would use the desk top downstairs for music, church, and school related things, while I would use the laptop in our room for writing and researching my latest obsession. Now we have to... share! (gasp!) Not that it really matters. Mostly I can't keep my eyes open anyway.
But here it is Monday and it's time to count up some blessings. I don't have a huge list for the week, but I have some pretty special ones.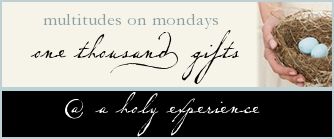 465. the phone message from a DAD of four kids, telling us how excited he is for our family and how much fun we are going to have. That four kids is such a blessing and to let him know if we need anything at all.
466. all the friends who have expressed congrats and encouragement (even if they might be privately thinking we are crazy. :)
467. homemade cinnamon rolls - whole grain and relatively healthy
468. that our bodies can often heal themselves and fight off viruses. Daniel is much better.
469. sleepy little faces that showed up for breakfast when Brenna forgot to set the alarm.
470. the special way the people of our church said goodbye to us. (we start at a new one next week.)
471. getting to spend time with our friends Rick and Karen even though I had to cancel our dinner because Daniel was sick. Starbucks was a good plan B.