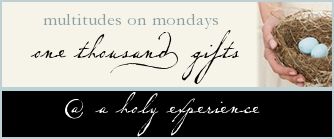 Last Monday we were in Georgia and South Carolina so I missed my weekly list of gifts. I don't have many pictures from the last two weeks to break up the list. Packing everything you own is a daunting task and one we are wrestling with as we try to decide what's really worth moving and what we can/should do without. And as if we weren't busy enough, Carrie is potty training. I was trying to wait until we move, but she's impatient, I guess. Yay for fewer diapers!
Gifts...
345. storage unit deal - three months for the price of one
346. pasta maker - half price for a short time on Amazon and I just happened to see it ~ free shipping too!
347. safety on the road during our SC visit, despite seeing several accidents and many bad drivers
348. friends offering to come help pack
349. boxes we were able to pick up from someone who had just moved
350. Jonathan and Tara - getting to see them and their new baby (We miss them so much!)
Brenna holding Makayla. Lexie and Daniel.
351. lunch in NC with Matt, Kim and little Grace
352. the way the wind blows the leaves on the trees
353. Belinda and Christine packing up our kitchen
354. Dave keeping 5 kids (three of his and two of ours) so we could pack. Amazing!!
355. our three kids on floor watching tv, surrounded by boxes
356. kid laughter, and not just laughter but hard giggles
357. easy fix at the condo this morning
358. that Carrie eats raw onions
359. that tears release stress
360. kids who travel well, even if they don't sleep in the van
361. talking with Michael about what we're looking forward to, keeping positive
362. Belinda's phantom boxes she listed in my packing notebook
363. Being given the opportunity to slow the house buying process down and make a good decision.
364. selling our sleeper sofa and love seat so we don't have to move them