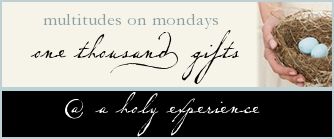 It must have been a good week, because I have a long list! I'm glad to be practicing gratitude and '
eucharisteo
' in what is such an uncertain time for us.
311. rain that fell in Daniel's rain gauge - almost a whole inch (He was so excited!)
312. eating at the Conch Republic with Michael because the kids were out of town
313. running into TJ and Megan at the food festival
314. free corn for dinner
315. the biggest blackberries I've ever seen
316. that Brenna, Daniel and Carrie were invited to visit Bec and Chris in SC with Mom and Dad
317. meeting Bill and Lisa
318. Going to the M Bistro for lunch on Friday, Amy's treat
319. spending two days with Mom and her friends
320. the dessert we made in cooking class
321. getting to talk about milling wheat and how easy it is
322. trying new recipes, like homemade
poptarts
(new post tomorrow)
323. a good night's sleep for Judi, who doesn't sleep well, while we were at Cheesecake Farms
324. smoothies
325. clear, quick answers, even when they are 'No'.
326. catching up with friends I haven't seen in a long time (Jenn, Brittney, Rick)
327. Michael's band - that it's not a huge time commitment, but that they are doing so well and having so much fun
328. Brenna's mature decision making that still so often surprises me
329. Twice this week, someone held my hands and specifically prayed for the sale of our home
330. finding Andy Stanley on tv by chance Sunday morning