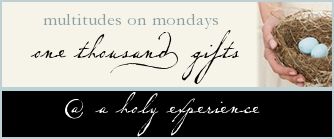 The kids have been in bed for half an hour and I can still hear Carrie in there talking. Such sweet sounds. I'm ready to wind down myself after a day of baking bread and making strawberry freezer jam. We also tried out two new recipes - one was a definite thumbs down (Asian Quinoa Salad) and the other got mixed reviews (Polenta with Spinach and Feta). It's been a busy day in the kitchen for sure.
Yesterday was a most amazing day for me. After church, we met up with several friends of mine from high school and their families. There is just something special about seeing each other as adults, as parents. Our kids had a wonderful time playing together and creating new friendships. It was so adorable and I'm bummed I didn't take pictures. Too busy talking. After the park, we met back up at the high school for a twentieth anniversary madrigals concert. Many of our former classmates participated and it was absolutely amazing. They sang the first song from the side aisles of the auditorium and the sound just blew us away. Of course it was wonderful to see every again and to catch up a little. So many memories....
I took Daniel and Brenna with me to the concert. When we first arrived at the school, Daniel had to go to the bathroom (of course). The hallway there is directly connected to the gym. I guess neither of them had ever seen a high school gym because they stood right in the doorway for the longest time not moving or talking, just in awe. I'm sure it looked huge to them. After the concert and all the goodbyes, we were driving out when Daniel informed me, "Mom, I could never go to high school here. They don't have a recess." (playground)
I had good friends in high school. Did I ever really recognize that before? This is the second reunion we've had and I wish I had appreciated them more back then. In fact, I've really been blessed with good friends throughout my life. Since I'm crossing the 200 mark in my gifts lists today, I think I'll make that an intentional marker~
#200 To all my friends throughout all my life. You rock! :)
Continuing to count the many blessings...
194. G - High School
195. reminiscing with friends from high school, laughing and confessing. Finding a thread still common all these years later and spending a wonderful day together.
196. homemade strawberry freezer jam
197. Daniel's hair cut, because he suddenly looks like a five year old. Three days early.
198. taking Daniel and Brenna out to a concert [anywhere, really] where they both behaved so well that the outing was fun and I was so proud of them.
199. feeling like I'm in my 'mommy' and 'homemaker' groove
200. All my friends, throughout all my life
201. talking and laughing with other parents on the sidelines of the soccer field
202. Lauren C. singing at church
203. drinking water - whoever thought that would make my list?!
204. the good friends that Brenna has made the last two years in her classes

205. when my chocolate chip cookies don't fall flat
206. anything that makes Daniel giggle
208. Popsicles
209. funny realtor business cards - especially when they don't mean to be funny.
210. quiet moments at home
211. surprise birthday gifts that change the summer outlook