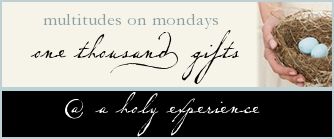 Monday! Funny how a week can change an attitude. Technically there's not much different than last week in our circumstances, but now we have a direction and a plan. I do believe that's an answered prayer.
Continuing to count...
84. sneaking peeks of Carrie playing contentedly in a crib full of toys
85. Yet
another friend
excitedly reading One Thousand Gifts
86. how the
new paint color
warms my kitchen so that it feels like a hug whenever I go in there
87. Daniel's soccer coach, who is great with a bunch of 4 year olds! He still plays soccer and has a broken finger to show for a recent block of the goal.
88. the song
"When I Call On Jesus"
- Mountains are gonna fall!
89. Walmart - and that's a big deal coming from a girl who routinely says "If Target doesn't have it, I don't need it." But my friend Suzanne suggested I might find a new shower curtain there for cheap - and she was right.
90. sewing up a new valance, simple and rewarding
91. apple dumplings from my dad
92. extra hours at work
93. listening to the older ladies in line behind me at JoAnn's chattering excitedly about the score of the VCU game being played as we waited to check out. With 3 minutes to go, VCU was ahead by 10 or so and the women couldn't help jumping from basketball to quilting to basketball in their excitement. It made me smile and took the tension out of waiting.